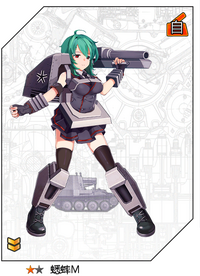 Callsign: RHYTHM1997 Rank: Founder of this wiki
=== Status: NOT ACTIVE FOR NOW, HAVE NO INTERNET.=== (IF HAVE SOMETHING TO ASK ME, ASK HIPORIN OR OTHER ADMINS INSTEAD. But I will try to respond to messages.)
Things to say...
I'm a fan of anime like Love Live!, Owari no Seraph, Attack on Titan, and many many more, including Kantai Collection which is the main reason I played this game in the first place. I founded this wiki and I'm happy for anyone who wants to help out. I try to edit as much as I can but my schedule is a bit tight.
I play both EN and CN versions, but I focus more on EN.
By the way, I make stories at Wattpad, so follow me in case you're interested. Currently, I am making fanfictions, especially Nico x Maki Lovelive fanfics. :3
Community content is available under
CC-BY-SA
unless otherwise noted.