<hero description="Metal Waltz (鋼鐵華爾茲) is an app for iOS and Android, where players have to lead an army of girls that represent various WW2 tanks and armored vehicles. The game bears some similarities with Kantai Collection." imagename="" cropposition="" />
This wiki is currently under heavy construction. Editors, translators and players are free to contribute! When creating pages, view the guide for an overview on how to do so.
Welcome Commanders!
Panzer Waltz (also known as Metal Waltz 鋼鐵華爾茲) is a Chinese game app developed by Game Audio Lab (What's Up Lab) and Happy Universe Studio for iOS and Android, where players have to lead an army of tank girls that represent various WW2 tanks and armored vehicles.
An English version of the game is now available for free at Google Playstore. and official website
Set in a world at war with experimentation gone awry, humanity must fight against what they had created! Discover the story behind the madness as you set off to defend your fellow compatriots. Their future is in your hands! Join Zoe and friends as you discover the reasons behind the appearance of mysterious antagonists and set the world right!
About the Game
---
---
The English version of the game has been updated with a new patch 1.9.03.

Features additional Japanese voices by Aya Hirano, Sumire Uesaka and other voice actresses for about 40 Metal Maidens.
Gold prices have been reduced by more than 50%, previous users now have that difference added to their accounts. For those who haven't received this yet, just send an email to the developers via panzerwaltz@happyuniverse.com.
Announcement
Hiporin, CDRW, and Kimlasca warrior are this wiki's new admins! Come to them if you have questions to ask or something to say to them regarding this wiki and the game! :3
The clash (PVP) in this week focus on Dirt Forest, as defender also affected by the Terrain penalty, Don't ignore it if you want to win !
You should pick girls who immune from Bushy and Swamp effects, such as American

M Series,

M2, Sherman and Grant Series, Germany

Panzer III / IV and Panther Series, Soviet

T-Series. Not much

in this group except T34E1 Calliope but most

and

are capable to hit anything within 1200m so you may take those SPG away.
Community
Metal Maidens (Tank Girls)
Links
---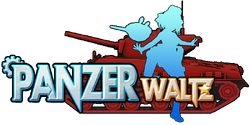 Get more information at the game's official website!
---


Contact the game's developers at: panzerwaltz@happyuniverse.com

Affiliates

Poll
Do you like playing Metal Waltz?
Poll 2
Which version of Panzer Waltz/Metal Waltz do you prefer?
Latest Operations
Community content is available under
CC-BY-SA
unless otherwise noted.