<hero description="Metal Waltz (鋼鐵華爾茲) is an app for iOS and Android, where players have to lead an army of girls that represent various WW2 tanks and armored vehicles. The game bears some similarities with Kantai Collection." imagename="" cropposition="" />
This wiki is currently under heavy construction. Editors, translators and players are free to contribute! When creating pages, view the guide for an overview on how to do so.
Welcome Commanders!
Panzer Waltz (also known as Metal Waltz 鋼鐵華爾茲) is a Chinese game app developed by Game Audio Lab (What's Up Lab) and Happy Universe Studio for iOS and Android, where players have to lead an army of tank girls that represent various WW2 tanks and armored vehicles.
An English version of the game is now available for free at Google Playstore. and official website
Set in a world at war with experimentation gone awry, humanity must fight against what they had created! Discover the story behind the madness as you set off to defend your fellow compatriots. Their future is in your hands! Join Zoe and friends as you discover the reasons behind the appearance of mysterious antagonists and set the world right!
About the Game
---
---
1.10.1.3
03-31 Patch Notes
1. RAID system added - For end-game players who have finished 24-4. Raid enemies and obtain useful resources and materials regularly. You¡¯ll find it in the sortie page.
2. FATE system added - You can now increase your Metal Maidens to LV99 and 3-star them (even blues~). Fated Metal Maidens will also have more stats and equipment slots! You must first max-star and max-level a Maiden before Fating her.
3. Hidden stats added - View them by tapping on a Metal Maiden within "R&D" and you'll see a Magnify Icon in the top-right.
4. Achievement card added - Tapping on your player profile will reveal your technological achievements status. Screen-cap and share with friends!
5. Aide system added - Every Metal Maiden under your command will have a Heart Icon in their details page. You can now set any Maiden as your front-page girl without having her be in your active squad.
6. New tanks added - Churchill Mk-V, KV-3, ARL44, IS-2m, T-35B, TOG1, T-35A, KV-1S->KV-1B, KV-1E->KV-1S, T-28 Medium Tank, Panther Ausf. G, Panzer IV Ausf. H, M26 Pershing, T-26 Light Tank, T-50, Mk.VII Light Tank, G.W Tiger 17, T-60/BM-8-24, BTR-50PA, Panhard 178B, Panhard 178A, Alecto Mk-I, Alecto Mk-II, Alecto Mk-IV, Sturmtiger, AT8 SPG
7. New event-tanks added - Sdkfz 234/1, Sdkfz 251/22, 38t Tank Ausf. G, Nashorn, Sherman Firefly, StuG III Ausf. F, M3A3 Stuart, M37 SPG, SU-14 SPG, Sturer Emil, TOG2, Black Prince, A34 Comet, and the few hidden ones are now revealed in the event-tank menu ;-)
8. Updated character art - M6A1 Heavy Tank, Churchill Mk-IV, Tiger (Early Henschel), T-34M, Panzer III Ausf. H, Panzer III Ausf. J, Sherman Mk-V, Panzer III Ausf. L, Cromwell Mk-VI, Cromwell Mk-IV, Panzer IV Ausf. D, Crusader Mk-II, Crusader SPG, T-40/BM-8-24, M40 SPG, Birch SPG, T34E1 Calliope, Sdkfz 251/9, Jagdtiger (88mm), SU-85, T-46
9. Various optimizations - Reduced package size, optimized a few menus, and more.
Announcement
Hiporin, CDRW, and Kimlasca warrior are this wiki's new admins! Come to them if you have questions to ask or something to say to them regarding this wiki and the game! :3
Community
Metal Maidens (Tank Girls)
Links
---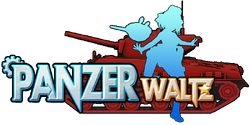 Get more information at the game's official website!
---


Contact the game's developers at: panzerwaltz@happyuniverse.com

Affiliates

Chat
Poll
Do you like playing Metal Waltz?
Poll 2
Which version of Panzer Waltz/Metal Waltz do you prefer?
Latest Operations