This wiki is currently under heavy construction. Editors, translators and players are free to contribute! When creating pages, view the guide for an overview on how to do so.
Welcome Commanders!
[
]
Panzer Waltz (also known as Metal Waltz 鋼鐵華爾茲) is a Chinese game app developed by Game Audio Lab (What's Up Lab) and Happy Universe Studio for iOS and Android, where players have to lead an army of tank girls that represent various WW2 tanks and armored vehicles.
An English version of the game is now available for free at Google Playstore. and official website
Set in a world at war with experimentation gone awry, humanity must fight against what they had created! Discover the story behind the madness as you set off to defend your fellow compatriots. Their future is in your hands! Join Zoe and friends as you discover the reasons behind the appearance of mysterious antagonists and set the world right!
About the Game
[
]
---
---
05-11 Patch Notes
[
]
General
Added 10 new maps to RAID
Corrected [Resistant] and [Net Filter] effects
New "Légion Étrangère" feature
New "Air Service" feature
Metal Maiden Updates
Art Updates: Panhard 178A, A34 Comet (facelift), Alecto Mk-IV, Sdkfz251/1, Tetrarch, T-26B, TOG1.
Live2d Updates: Sherman Firefly, Bison II.
New Metal Maidens: Super Hellcat (N6), T29E3 Heavy Tank (N6), T-44/100 (N6), Matilda Hedgehog (N6 Dogtags), King Tiger (N6), T17E1 Staghound Mk-III (N5), M5A1 Light Tank (N5) Changes: T-35-A->T-35-1; T-35B->T-35A.
Balance Changes
Increased Pershing's Crit Defense (Letter unchanged)
Buffed some tanks' Targeting and Evasion
Increased Skirt Armor's hidden Crit Defense buff
HEAT ricochet chance greatly reduced vs specialized armors
HEAT burning chance slightly increased
General Improvements
Naval Port now has a "Buy All" button
Skip All can be enabled in config now
 Squad-level equipment "Show All" management
You can now sort tanks by talents
BUG Fixes
Black Prince has been hidden (She's meant to be enabled during/after the event, as she requires an event-only tank to construct her.) For now, the only way to obtain Black Prince is through the BWMG
 General bugfixes, translation fixes, etc!
Announcement
[
]
Hiporin, CDRW, and Kimlasca warrior are this wiki's new admins! Come to them if you have questions to ask or something to say to them regarding this wiki and the game! :3
Community
[
]
Metal Maidens (Tank Girls)
[
]
Links
[
]
---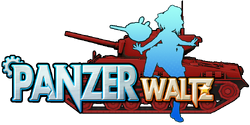 Get more information at the game's official website!
---


Contact the game's developers at: panzerwaltz@happyuniverse.com

---
Affiliates
[
]
Chat
[
]
<chat/>
Poll

[

]
Poll 2

[

]
Latest Operations
[
]